North Garden (Turquoise) GAMAGUCHI Small Clasp Purse
'This clasp purse is slim and comfortable in the hands, yet holds a surprising amount. Special tenmizo clasp has a subtle profile that gives this special item a look that is far more chic than a traditional clasp purse. This is a practical item that adds style and flair to almost any occasion, and is sure to become one of your prized possessions.
Made from: Cow leather and other materials
Dimensions: 135 mm (L) x 75 mm (H) x 15 mm (D)
Clasp: Gold-plated brass
Partitions: 1
Pockets: 1 (card slot in the partition)
Bunko leather: Both sides
Made in Japan
Note: The photos below only indicate the shape and construction of the product. Product color and design is indicated in the main photo.
This clasp purse has been a favorite at Bunkoya Oozeki for forty years--so long that we have customers whose children and grandchildren have also fallen in love with it.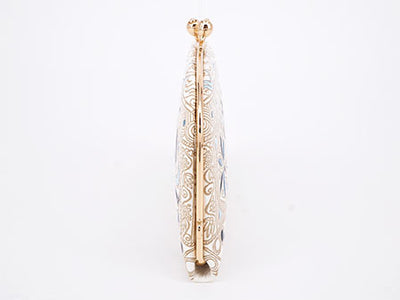 Sleek design is so slim, our Japanese customers sometimes tuck it in the belts of their yukata or kimono. But the real secret to its popularity is how much it holds for its small size--30 coins fit easily.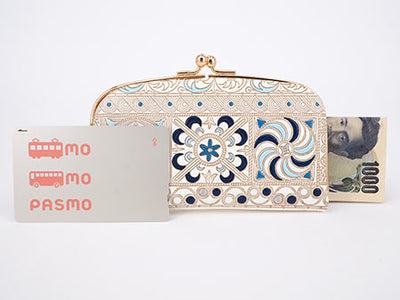 Also holds credit or business cards, as well as bills folded in thirds or fourths.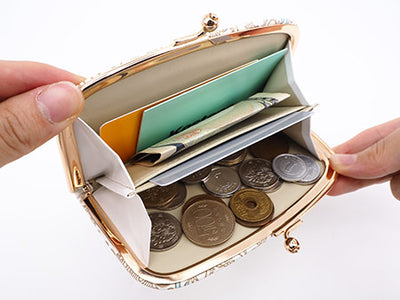 Perfect for tucking into a tiny purse when you're out for a special occasion, or for a quick trip to the store on your break.
Small loop allows you to add a carry handle or charm for added fun.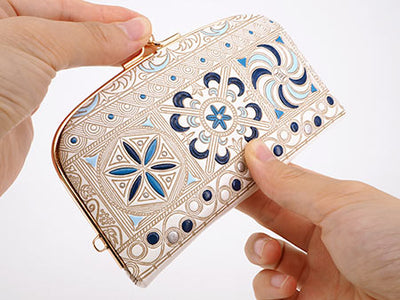 Cute by itself and cute in the hands, with the delightful metal click of a classic brass clasp.