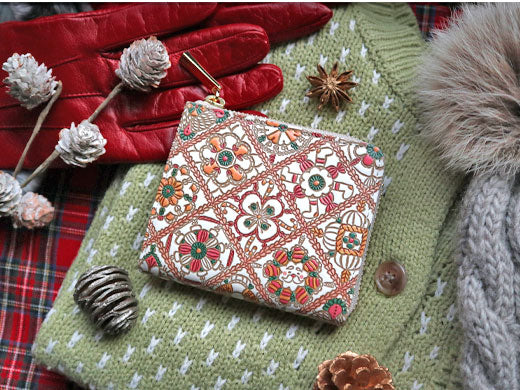 It's already November... It's hard to believe that there's only two months left until 2024, especially when it's this warm during daytime!
These days it's already time for Christmas after Halloween is over (by the way, we don't celebrate Thanksgiving in Japan).

When it comes to Christmas, have you all already checked out our limited time Christimas designs?
For this year's Christmas, we've prepared four limited designs!
Each and every one has full of exciting Christmas and winter-time atmosphere, and yet it's not completely Christmas-esque to the core; the designs can surely entertain you throughout the year!  
Today, I'd like to introduce our brand-new Christmas designs: the Chocolate Crochet and the Candy Crochet!
The name sounds like a new crispy candy or some sort now, doesn't it?
According to our handcrafters team, "crochet" means "hooked stitches."
Countless lovely motifs created from yarn and crochet needle...
Various Christmas items are hidden within the crochet motif: cute and fun now, isn't it?
Good old Santa Claus, that looks like a furry lion!
There's even socks, and candy canes too!
We've made sure to make the outline of the design to have a handdrawn touch; we've fluctuated and constantly altered the thickness of the line to express the hand-knit feel.
▼The "Chocolate Crochet" has a chic brown and green color as its base.
▼The "Candy Crochet" has a warm orange and red color as its base.
The two designs use a total of four colors, respectively.
According to the design team, using too much coloring makes the knit like atmosphere go away, so they decided to reduce the color used down to four.
As a result, it became simple yet warmful design; a perfect match with a knitted sweater!
The new "Crochet" designs are available now♪
Now... What shall I do for this year's Christmas...Shall I cook a gorgeous meal? Or decorate a Christmas tree?